Family Friendly and Date Night Approved!
Join us for fresh, handmade, delicious food, including our incredible burgers, huge salads, unique tapas, and excellent seafood options.
Come for the delicious food and stay for the atmosphere. We have exceptional service and the best drinks in town; try one of our excellent margaritas or an epic Caesar!
SoCal's Supreme Caesar Thursdays
The best Caesars on Vancouver Island . . . a new invention every week!
Get here early as these are limited edition dinner in a glass masterpieces!
Our menu changes seasonally, but some things remain constant. One such thing is our SoCal Seafood Linguine. Made with care and fresh delicious seafood, you wont be disappointed if you give it a try.
It is hard to decide what stays and what goes with each seasonal menu revamp, because almost everything we make sells equally as well as everything else! 
Our top sellers are always:
The BBQ Backyard Burger
Seafood Linguine
Fish Tacos
Chipotle Chicken Burrito
Long Beach Salad
California Salad
Fish n Chips
La Jolla Burger
Chicken Wings
Nachos
Luke BlU Guthrie ANELA KAHIOMOE DAVID GAUCI COLE SCREAMIN' WESTERLY CAM BOYCE FANFARE STRINGS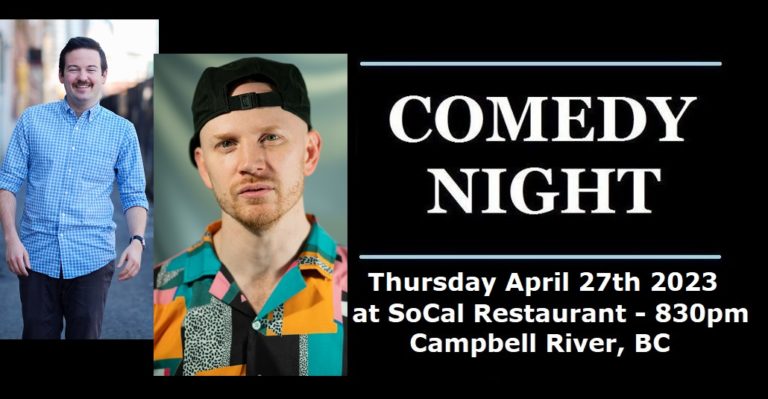 Got Pop? Concerts & SoCal Restaurant present: COMEDY NIGHT at SoCal RestaurantFeaturing co-headliners: Colin Sharp & Devin Alexander! + special guests Thursday, April 27th 2023 …
Come & see Amber Harper-Young with special guests: Nancy Ho & Andrew Mack Tickets are $20 + s/c in advance, $25 at the door and …